I've finally got Life's a Witch: A Paranormal Romantic Comedy up for preorder (and finished writing the first draft!), so now I can reveal the final cover in the New Orleans Nocturnes Series (so far). I might write more books in the series, but that's still undecided.
Life's a Witch follows Crimson, a witch you'll meet in Shift Happens, as she fights for her place in the coven while getting into some trouble with a smokin' hot demon.
Here's the cover: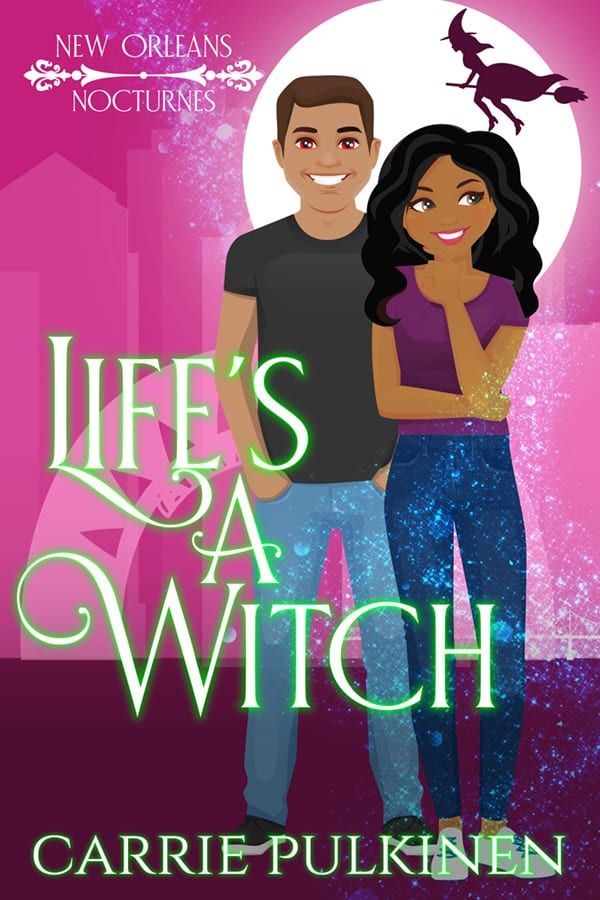 And here's what the book is about:
Crimson Oliver is a bad witch.
She's not wicked, but every spell she tries to cast goes awry in one way or another. After her last screw-up, the high priestess has threatened to bind her powers and turn her human for good.
Crimson's solution? Challenge the priestess to a battle of magic she can't possibly win.
Not without a miracle, anyway.
Enter hotter-than-hellfire demon Mike Cortez. He's a devil's advocate who can make anyone's dreams come true…for a price. He's had his eye on the seductive witch for a while, and Satan is in the market for a new assistant.
But Mike wants to date her, not damn her.
When he accidentally makes a deal condemning Crimson to an eternity of satanic servitude, they'll have to go to hell and back to outsmart the devil and save the witch's soul.
Ride along on a journey from the Big Easy to hell and back again in this fast, steamy paranormal romantic comedy!
Life's a Witch releases April 20th!