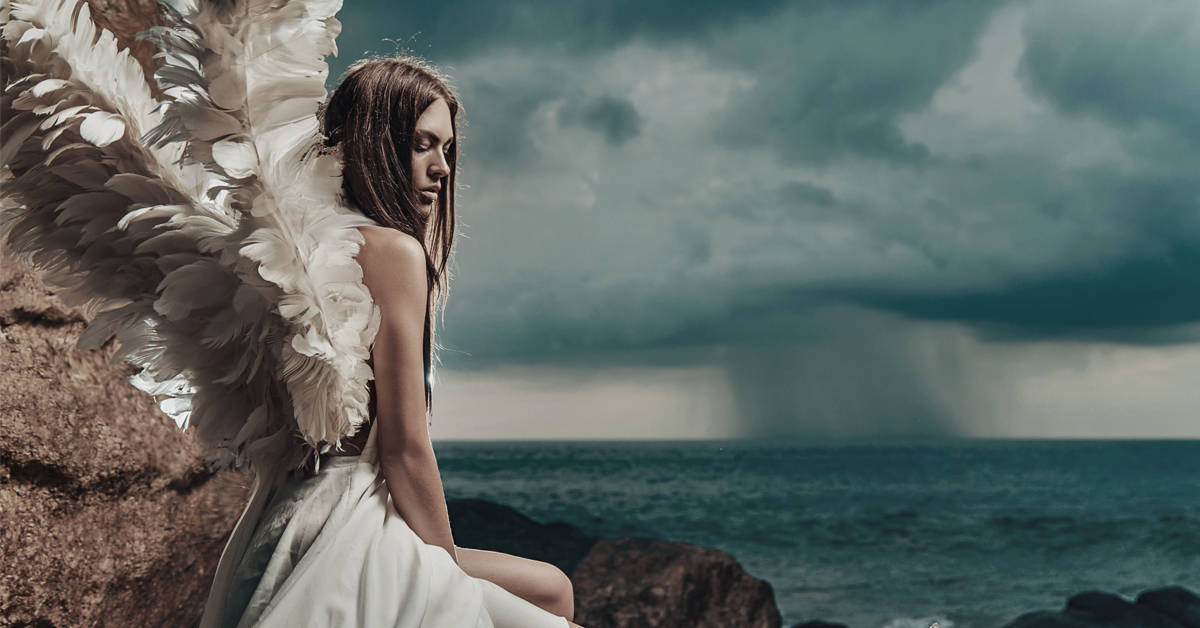 Since I'm about to publish an angel paranormal romance novel, I've been looking at the others on Amazon. And I've noticed something troublesome. When you search through the categories, the majority of the top 100 best selling books in the angel paranormal romance category aren't about angels at all. There are plenty of vampire and shifter books, but aside from a few YA novels, the category is populated with mostly non-angel heroes and heroines.
So, I did some more searching to wade through the entries, and I've compiled a list of 10 angel paranormal romances (for adults) that are actually about angels. This list is by no means exhaustive. These are just ten that caught my eye that might be worth checking out if you like angels. And if the book is part of a series, I've only listed the first one.
**Update: Since The Rest of Forever is now available, I'll include it here as a bonus 11th angel book.
The Rest of Forever by Carrie Pulkinen
An enemies to lovers romance with an unlikely guardian angel...
High school history teacher April Carter never asked to be an angel. When she dies in a school shooting, she should go to heaven like a normal person. Instead, she wakes up in the afterlife as an angel-in-training with the insufferable Damian as her mentor.
She might as well be in hell.
Damian plans to help April cross over and be done with her. Being assigned as her trainer is the last thing he needs. She's stubborn and strong-willed, and she's ignited a fire in his soul he didn't think could ever burn again.
If the pair can stop butting heads long enough to keep their charge alive, they might discover a love worth fighting for.
Fallen: An Angel Romance by D.G. Whiskey
Zara Thompson is a normal woman. At least, she thought she was. But when bad men with strange abilities chase her down and she's saved by a sexy angel who looks like a sculpture come alive, life gets interesting. He's insanely hot, and she wants him like she's never wanted a man before.
Alexandriel had no choice but to save Zara. She was helpless, and he was a Guardian. Something about her reeled him in and wouldn't let go. Too bad the archangels don't see things the same way, and they strip him of his powers and send him to Earth as a human. It's all worth it when he gets the chance to spend time with the woman who captured his heart.
The next time the enemy finds them, Alex is beat and broken. It's up to Zara to harness the power within her to save him.
Angels of the Knights - Fallon by Valerie Zambito
When Fallon died at the age of sixteen, her life changed forever.
The hallowed world of Emperica is everything she had ever hoped for as a mortal—immeasurable beauty, unconditional love and light. But, with affection for humankind still burning within her, she joins the Knight Caste to train as an angel warrior.
The elders warn her that the path she chose will be a solitary one. That she will not have the same bond with humans as she once did. But, as far as she knows, the elders had never met Kade Royce.
When her duties place her in the path of the handsome former cop, emotions buried long ago rise to the surface and she is powerless to ignore the depth of her feelings for this young man. Ignoring the risks, she invites him into her world of danger, but soon their lives collide with explosive consequence. As a result, Fallon realizes with heartbreaking despair that she can no longer hide from the painful truth. In order for Kade to live, she must destroy him.
Angel of Mercy (The Fallen Book 1) by Lisa Olsen
I don't know why I got stabbed. I don't know why I healed overnight. I don't know why I keep seeing the same guy in my dreams, on the sidewalk, at the mini-mart near my apartment - the insanely hot guy with the piercing blue eyes that nobody can see but me.
I have to follow him. I have to talk to him. And he's not the only one stalking me. That guy with the knife? He's still out there, and he knows where I live. I have to know. What am I now? Am I still human? Am I part angel? Or am I something new?
Immortal Blood (Immortal Heart Book 1) by Magen McMinimy
A perfect night on the town turns out to be her worst nightmare. A date with a handsome man is the catalyst for events that she thought only happened in fairy tales. Thrust into a world of danger, Isabelle has no idea what is in store for her as the Light and Dark Fae fight over her future.
Isabelle Moreno is a young woman working her way through life, finding little time for love and adventure. Until she agrees to a date with a mysterious stranger, only to find out the secrets this man holds are something she could have lived her entire life without knowing. The Dark Fae Luck Eater has found something enticing in Isabella's humanity.
Bain is an arrogant playboy and an Immortal Light Fae Warrior. He and his four brothers fight for the safety of the human race while remaining something of myth. After weeks of tracking the Dark Fae Luck Eater, Bain comes across yet another victim, in Isabelle.
Bain has finally found his match in this feisty human as she fights against him and her ever growing attraction to the Immortal who is bound to protect her.
Remember Me (Storm Lords Book 1) by Nina Croft
Unable to bear the thought of losing his mortal wife, Caden Wolfe steals the Elixir of Life and offers her eternity. But the theft is discovered, his wife is slain, and Caden is stripped of his angel wings and cast down into the Abyss.
Having drunk of the Elixir of Life, Phoebe Little's soul is tied to the earth in a perpetual cycle of death and rebirth. Unaware that she has lived countless lives, Phoebe is haunted by the loss of a love she has no memory of.
Caden has spent a thousand years searching for his wife. Now he has found her, and only Phoebe's love can redeem them both. But Phoebe fell in love with an angel, and Caden is now a demon of the Abyss. Can she see past what he has become, remember the love they once shared, and have a second chance at forever?
Kiss of an Angel by Janelle Denison
YOU NEVER FORGET YOUR ONE TRUE LOVE . . .
The last thing J.T. Rafferty expected when he awoke from a concussion was to find a beautiful stranger tending to his wounds. She'd saved his life, but the lovely Caitlan Daniels had some serious explaining to do – like how she'd ended up on his isolated ranch, miles from civilization. Despite his wariness, J.T. is increasingly drawn to Caitlan. She is passionate and independent and utterly enchanting – but Caitlan also has a secret. And when J.T. finally discovers the shocking truth, he'll have to defy heaven and earth to keep her close to his heart.
Lucius; The Fallen by Tara S. Wood
Six angels once sat at the right hand of The Almighty, but an ill-fated decision cast them out of Heaven. Now they serve Him on Earth, slaying demons for their redemption. They are…The Fallen.
Lucius, once revered at the side of God, fell to Earth with his brothers to pay penance and atone for his lapse in leadership. Wingless and forsaken, they have all paid a price for their complicity. Lucius' hubris is now a curse, and he cannot rest until they carry out the last of The Almighty's orders...and stop a war that has been millennia in the making.
Persephone Roberts is always in the right place at the right time, the serendipity allowing her to help people on her travels. When it leads her to cross paths with the band of hard-living fallen angels, she sets her sights on their leader, and is determined to restore Lucius' faith in their quest. And in himself.
But the ancient evil the angels strive to fight has put Persephone in its crosshairs. It will be up to Lucius and his brothers to save her and destroy the minions of the dark. Can the amber-eyed beauty with her accepting heart heal wounds that cut soul deep, and force him to reclaim a glory he once tossed aside? Is he strong enough to realize the path back to Heaven begins with her, or will he be forever...fallen?
Branded (Fall of Angels Book 1) by Keary Taylor
On the remote shores of Lake Samish hides a woman losing touch with reality. Haunted by violent dreams of angels, standing judgment for the sins of others, Jessica has resorted to a life of solitude and nightmares.
But when two men she can't ignore enter her life, everything changes, including the afterlife that calls to her. Can she hide the physical scars that follow her into the land of the living from the enigmatic and easygoing Alex? And why is her gorgeous and assertive new neighbor, Cole, so fascinated with her?
A chance at love sits within reach, but the chock is ticking, and it might not be long until Jessica stands her own judgment and becomes the object of her greatest fear.
Primani by Laurie Olerich
The series is a sexy roller coaster urban fantasy romance that follows an untrained psychic and the tight group of powerful warriors charged with her journey to immortality. Dark, funny, full of twists, and steamy passion, the series proves no one is truly lost.
Budding psychic Mica is a walking miracle. After surviving a brutal attack, she vows to live each day to the fullest. Little does she know her life is no longer hers to control. When Tall, Dark, and Annoying shows up to shadow her, she's intrigued.
Powerful and ruthless, Sean's assigned to guard more than Mica's body. Humanity's future is at stake, and it's his job to keep her on the right path. There are plans for her. Plans that'll change everything she believes if she lives long enough to learn the truth. Guarding one human shouldn't be this complicated, but Mica makes it anything but easy.
As the clock ticks, Sean pulls Mica deeper into the Primani world until there's no way out, and she doesn't want to leave.
Broken (Book 1, The Watcher Chronicles) by S.J. West
At the tender age of seven, Jess Riley's parents were ripped out of her life by the Tear, a ripple of white light in the sky which randomly transports people from Earth to alternate realities and distant planets once a year. On the night the Tear first appeared, the Watchers, a mysterious group of men possessing supernatural powers, made their presence known to the leaders of the world, earning their complete trust to deal with the turmoil the Tear caused.
Now twenty-two years old, Jess is an agent working for the Watcher Agency searching for a way to bring her parents back home. When the leader of the Watchers, Mason Collier, recruits her to join his team, Jess quickly discovers she is meant to play a major role in sealing the Tear forever. Mason and Jess instantly find themselves drawn to one another but they both resist their mutual attraction for different reasons. Broken by past events in their lives, they each struggle to overcome their fears and find the strength to take a chance on one another.
So there you have it. Ten Eleven angel paranormal romance novels that are actually about angels. I hope this helps you narrow down your search!
Did these books pique your interest?