It's time for another cover reveal! Shift Happens: A Paranormal Romantic Comedy is Book 2 of the New Orleans Nocturnes Series.
This book follows a wannabe with and a werewolf as they try to solve the mystery of who cursed the wolf pack.
Here's the adorable cover: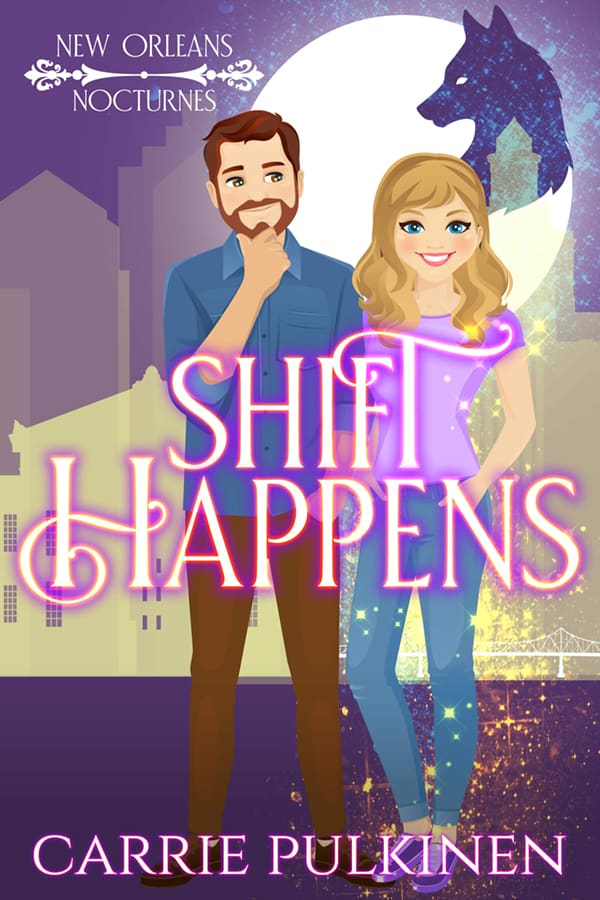 And here is what the book is about:
She wants to bang a werewolf, not become one. 
Sophie Burroughs is determined to be a witch. Her grandmother was a witch. All the other supes say she smells like a witch, but she can't cast a spell to save her life.
Sprouting fur is so not on her to-do list.
But when a smokin' hot werewolf bites her and then accuses her of crimes against his pack, she has until the next full moon to prove him wrong and stop his magic from transforming her into a wolf.
A romp in the sack would be a nice bonus, too.
Trace Thibodeaux didn't mean to bite Sophie. The red wolves have been cursed, she's the prime suspect, and if he wants to keep his rank in the pack, he has to end her magic by any means necessary.
But that doesn't include sheathing his sword in a witch's scabbard.
He's gotten into bed with the enemy before, and that's a mistake he'll never make again.
Or will he?
If you like funny heroines and smoldering shifters, you'll love this steamy paranormal romantic comedy.