Way back when, when I posted the cover reveal for Life's a Witch, I said that I might write more books in the New Orleans Nocturnes Series, but it was undecided. Well... I've decided!
Book 4 is called Finders Reapers, and now I can reveal the cute, fun cover for this new paranormal romantic comedy!
Here it is: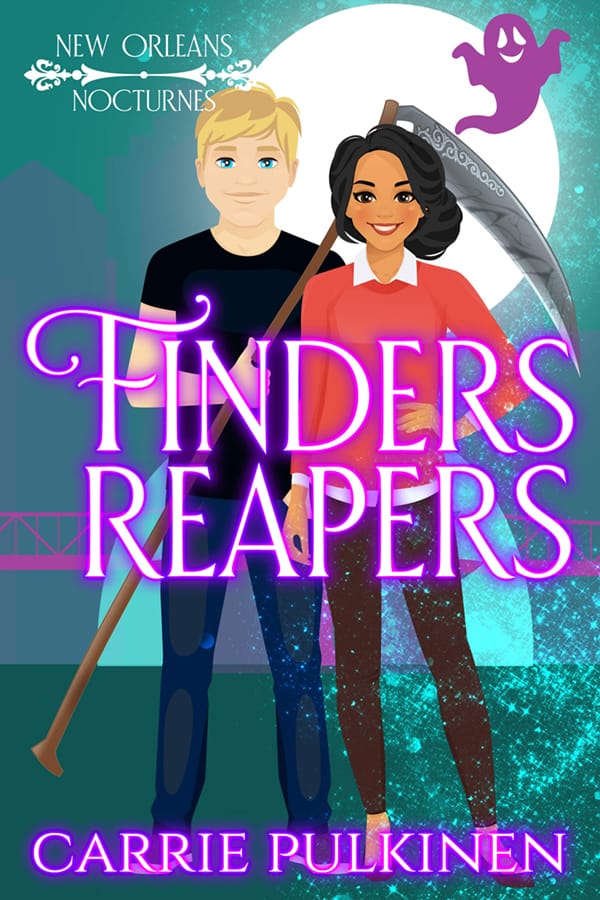 And this is what it's about:
The grim reaper took a vacation. Now all hell is breaking loose.
With an existential crisis looming over his head, Asher needs a break from reaping souls. But when he leaves his door to the underworld unattended, one escaped ghost threatens to turn the French Quarter into a haven for the hell-bound.
Oh, and that crisis he was trying to escape? Her name is Jasmine Lee, and she could be the death of him.
The literal death of Death. Yep. You heard that right.
There's no such thing as too dead when it comes to necromancer Jasmine Lee.  She's never met a ghost she can't tame, but when a thousand ornery spirits descend upon New Orleans, her secret weakness is a recipe for phantasmal disaster.
Holy ghost guts. She's in trouble.
The unfairly hot reaper is the last person Jasmine wants to work with. But if she doesn't help Asher wrangle the lost souls back to the underworld, there will be hell to pay.
Literally.
Enjoy a smoldering brush with Death in this fast, fun romantic comedy.
Finders Reapers releases August 24, 2020, and it's up for preorder now!