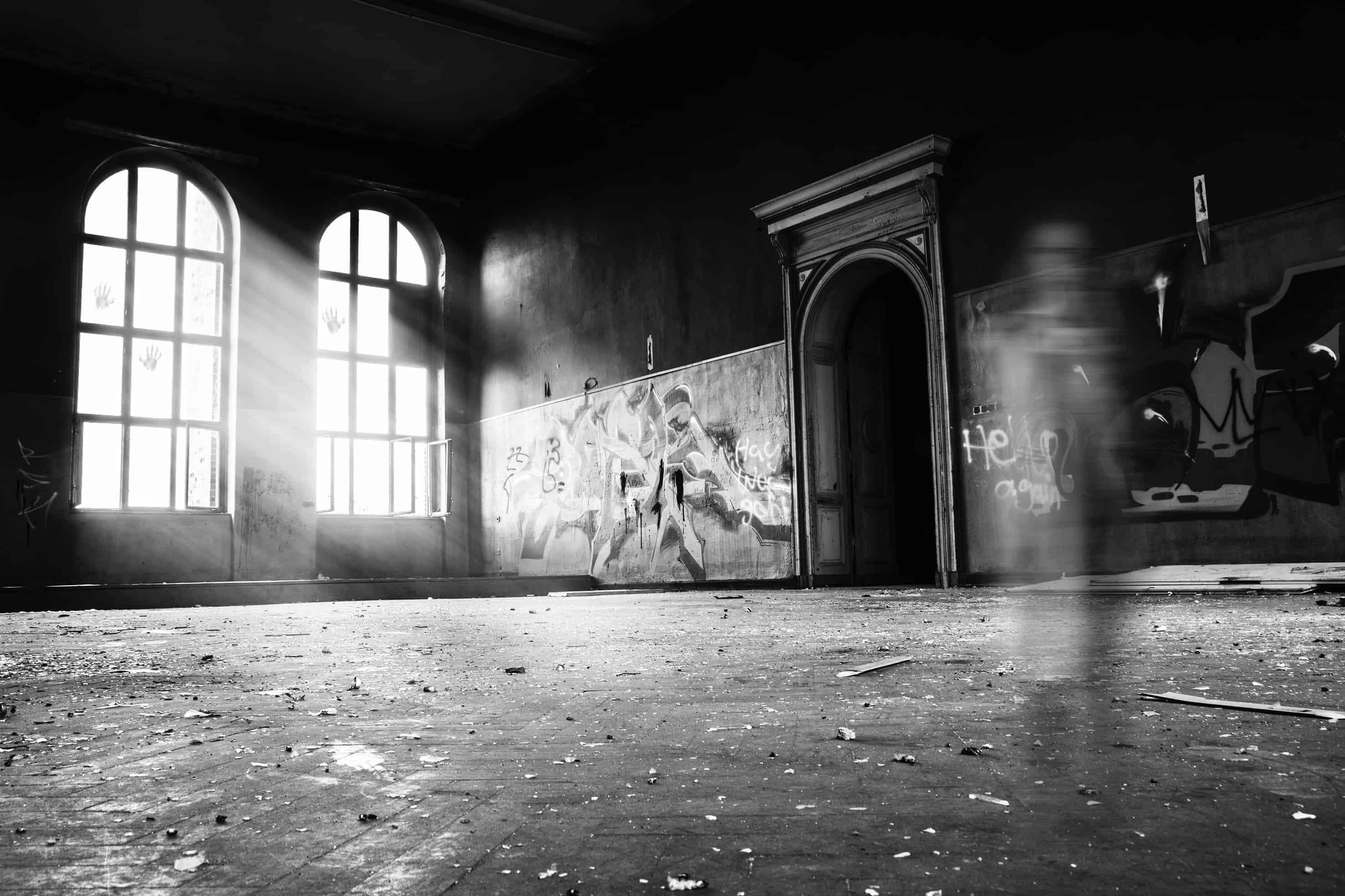 I love ghost stories, especially ones with a little bit (or a lot) of romance thrown in. I like them so much, I wrote a series of romantic ghost stories, and I've got another one in the works. Unfortunately, finding a good paranormal romance ghost story on Amazon can be difficult. When you look at the top 100 best selling ghost romances, the list is populated with mostly books about shifters, vampires, and other fantasy-type creatures.
Don't get me wrong, I love a good shifter book (I'm working on my own werewolf series now). Vampires are awesome too. I've written a couple of vampire books myself. But sometimes, I just want to read a good, spooky ghost story, where the main characters are normal (or psychic) humans. And those can be hard to find.
So I did some searching, wading through the different types of paranormal books to compile a list of 10 paranormal ghost romances that are actually ghost stories. This isn't an exhaustive list; it's just 10 books that caught my attention that might be worth checking out if you like romantic ghost stories. If the book is part of series, I've only listed book 1.
Ghost by Charmaine Ross
What happens if you could suddenly see ghosts? With amnesia?
Cassie Hunter wakes to find a man with serious green eyes staring down at her in the morgue, but her initial confusion turns to absolute horror when she realises this man has been dead for over seventy years.
Elliot Stone doesn't know he's dead. Or how he came to end up in the morgue. Or why he can't keep his eyes off the sexy doctor. Or anything else, for that matter.
But the truth is, the family curse has awakened. Something Cassie went out of her way to prevent from happening. How can she turn away the soulful, amnesiac detective who strikes a chord in her like no—living—man has ever been able to do?
Ghost is a powerful new paranormal romance series that will captivate your imagination. Follow Cassie on her journey through perilous dimensions of reality to fight for the love of her life.
A Gift of Ghosts by Sarah Wynde
Akira has secrets. But so does the town of Tassamara.
Akira Malone believes in the scientific method, evolution, and Einstein's theory of relativity. And ghosts.
All the logic and reason in the world can't protect her from the truth—she can see and communicate with spirits. But Akira is sure that her ability is just a genetic quirk and the ghosts she encounters simply leftover electromagnetic energy. Dangerous electromagnetic energy.
Zane Latimer believes in telepathy, precognition, auras, and that playing Halo with your employees is an excellent management technique. He also thinks that maybe, just maybe, Akira can help his family get in touch with their lost loved ones.
But will Akira ever be able to face her fears and accept her gift? Or will Zane's relatives be trapped between life and death forever?
Love & Ghosts by Carrie Pulkinen
He sees dead people.
She refuses to believe they exist.
Psychic medium Sean LeBlanc runs the most popular haunted tour company in the French Quarter.  For years, he's been challenged by the loudest, most unbelieving critics, but he's always come away changing their minds.
Until now.
When the toughest skeptic he's ever met turns out to be the woman of his dreams, he makes it his mission to win her heart and dispel her disbelief.
Communicating with the dead is easy. Convincing her his ability is real?
Not so much.
Emily Rollins is a rational woman who doesn't believe in ghosts, so when a mysterious wooden box arrives on her doorstep, she brings it inside without a second thought.
But the box contains a sinister force that threatens her sanity and her life.
She's starting to fall for the alluring psychic, but if he can't convince her to exorcise her demons—from her apartment and her mind—they both might end up communicating from the other side…
If you like intrigue, mystery, and suspense, you'll love this steamy, heart-melting romance.
Sinister Summer by Colleen Gleason
Welcome to Wicks Hollow: a cozy town near Lake Michigan filled with quaint houses, eccentric residents, and more than its share of ghosts, murders, and romance.
Diana Iverson needs a break--from her stressful job, from her philandering boyfriend, and from the rest of her fast-paced life. When she inherits her eccentric Aunt Jean's home on Wicks Lake, Diana takes a much-needed vacation in the cozy little town.
But when the lake house becomes the scene of multiple break-ins and other unsettling events, Diana begins to suspect Aunt Jean's death was not as innocent as it seems.
And then there's Ethan Murphy, the sexy college professor who lives next door… He appears to know a lot more about Aunt Jean than he should, and Diana doesn't trust him.
But most of all, there's Aunt Jean herself…who seems determined to communicate with Diana—from beyond the grave.
A ghost story romance set in a small town, featuring a cozy mystery about a ghost that just won't rest until justice is served. The perfect blend of romance, suspense, and ghosts.
Ghostly Liaison by Stacy McKitrick
Avoiding love is hard. Catching a killer can be fatal…
When Rob's sister passed away, she left him her dog and her house. He can handle the dog part, but he doesn't need another home. Especially a fixer-upper the neighbor swears is haunted. Then he meets Bridget, who's working on getting her life back together after a car accident left her scarred in more ways than one. She can't pass up Rob's offer of free lodging, regardless of the shape it's in. Or the roommate that's part of the package. She's never believed in ghosts, but now she's living with one who wants Bridget's help in catching a killer. There's only one problem: the killer has unfinished business…
Haunted on Bourbon Street by Deanna Chase
Jade loves her new apartment—until a ghost joins her in the shower.
When empath Jade Calhoun moves into an apartment above a strip bar on Bourbon Street, she expects life to get interesting. What she doesn't count on is making friends with an exotic dancer, attracting a powerful spirit, and developing feelings for Kane, her sexy landlord.
Being an empath has never been easy on Jade's relationships. It's no wonder she keeps her gift a secret. But when the ghost moves from spooking Jade to terrorizing Pyper, the dancer, it's up to Jade to use her unique ability to save her. Except she'll need Kane's help—and he's betrayed her with a secret of his own—to do it. Can she find a way to trust him and herself before Pyper is lost?
Ghost Gifts by Laura Spinella
All Aubrey Ellis wants is a normal life, one that doesn't include desperate pleas from the dead. Her remarkable gift may help others rest in peace, but it also made for an unsettling childhood and destroyed her marriage. Finally content as the real estate writer for a local newspaper, Aubrey keeps her extraordinary ability hidden—until she is unexpectedly assigned the story of a decades-old murder.
Rocked by the discovery of a young woman's skeletal remains, the New England town of Surrey wants answers. Hard-nosed investigative reporter Levi St John is determined to get them. Aubrey has no choice but to get involved, even at the terrifying risk of stirring spirits connected to a dead woman's demise and piquing her new reporting partner's suspicions.
As Aubrey and Levi delve further into the mystery, secrets are revealed and passion ignites. It seems that Aubrey's ghost gifts are poised to deliver everything but a normal life.
Electricity by Claire Gem
She's an electrician starting over with her son. New job. New town. New life.
He's a coworker who's interested in more than her ability to run conduit.
The building they're rewiring was once an insane asylum…but it appears some of the patients never left.
Mercedes Donohue pulled up roots in Atlanta when her marriage imploded. She's come back to New England, to the place where she was born. Mercy's focus is to stabilize her teenage son's life—he took the breakup pretty hard—and to establish her place, gain the respect of Progressive Electrical's team.
She never expected so many sparks to fly so soon, both on the job and after hours.
Daniel Gallagher has been alone since his fiancé's death. He'll never feel that way about any woman again, and certainly won't try with another independent, strong-willed one. Then Mercy short-circuits his plans.
Although the asylum closed its doors over thirty-five years ago, Mercy & Daniel quickly realize the abandoned building is very haunted.
If you like a heart-melting romance laced with healthy dose of supernatural thrills and chills, you'll love Electricity.
Ghost Walk by Heather Graham
Yes, she believed in ghosts, or if not ghosts, per se, a memory that lingered in certain places.
It sure as hell wasn't something she was going to share with anyone.
Nikki DuMonde's newest employee is standing at the end of her bed at four o'clock in the morning begging for help. It's a joke, right? Besides, as manager of a successful New Orleans haunted-tour company, Nikki doesn't scare easily. But in the light of day, harsh reality sets in as a police officer informs her that Andy was brutally murdered—at the exact time Nikki swears the distraught woman was in her room.
No one believes her except for Brent Blackhawk, a paranormal investigator desperately trying to forget his tragic past. Half Irish, half Lakota—and able to communicate with the dead—Brent is used to living in two worlds. But when he realizes the ghost of a slain government agent is also trying to reach out to Nikki, he knows that she, too, must listen to the dead…if she wants to keep living.
Midnight Bayou by Nora Roberts
Declan Fitzgerald had always been the family maverick, but even he couldn't understand his impulse to buy a dilapidated mansion on the outskirts of New Orleans. Ever since he first saw Manet Hall, he'd been enchanted—and obsessed—with it.
Determined to restore the mansion to its former splendor, Declan begins the daunting renovation room by room. But the days spent in total isolation in the empty house take a toll. He is seeing visions of days from a century past and experiencing sensations of terror and nearly unbearable grief. Local legend has it that the house is haunted, and with every passing day Declan's belief in the ghostly presence grows.
Only the companionship of alluring Angelina Simone can distract him from the mysterious happenings in the house, but Angelina has her own surprising connection to Manet Hall—a connection that will help Declan uncover a secret that's been buried for a hundred years.
There you go! Ten paranormal ghost romance books that are actually about ghosts. I hope this helps you narrow down your search next time you're looking for a spooky, romantic ghost story!
Did these books pique your interest?