It's cover reveal time! I'm so excited to show you the cover for To Stop a Shadow - Book Two in the Spirit Chasers series. This book follows Tina and Trent's story, and I'm shooting for a release date sometime in October.
To celebrate my cover reveal, To Catch a Spirit, Book One in the series,  is on sale for 99 cents on Kindle until August 9th. If you haven't had a chance to read Book One, now is the perfect opportunity! CLICK HERE to get your copy now!
Here's the cover!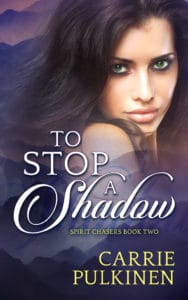 And Here's What the Book is About:
Trent Austin is a successful, big-city lawyer. The last thing he needs is the burden of a run-down house in the suburbs. But when his crazy uncle dies and leaves his estate to Trent, he soon learns he's inherited a lot more than a Victorian mansion. He's got to get rid of the house—and the ghosts that came with it—before it kills him.
Tina Sanders is the best real estate agent in Michigan, so she shouldn't be surprised when Trent calls her to sell his uncle's house. But she hasn't spoken to Trent since she dumped him three months ago. Her fear of commitment forced her to sideline Trent to the friend-zone, but the flames rekindle as soon as she sees him again. Despite her better judgement, she accepts the job and soon discovers her connection to the house runs deeper than the sexy lawyer who owns it.
Something in that house wants Trent dead. As he battles to win the affections of the sultry real estate agent, he's also fighting for his life. His heart may belong to Tina, but a shadow demon is after his soul.
Don't the covers look beautiful together side by side? I can't wait to get started on Book Three!
I will post an update as soon as I have a release date, so be sure to check back often. Or if you'd like to stay up-to-date on all my latest news, giveaways, and new releases, sign up to become a VIP Reader. Not only will you get bimonthly emails full of special deals, announcements, and freebies, but you'll also get a free ebook copy of my novelette Bewitching the Vampire.
[mailerlite_form form_id=1]
And don't forget to pick up your copy of To Catch a Spirit, Book One in the Spirit Chasers series for only 99 cents through August 9th!
Thanks for stopping by!