As I'm waiting on my editor to finish reading To Stop a Shadow, my mind has been wandering around the Spirit Chasers world, trying to figure out how Gage's story is going to go. All of my books start out as daydreams. I spend a week or two contemplating…playing scenes over and over in my mind until they start to come together into a semblance of a story. During this period in my planning stage, you'll often find me lying on the couch with my eyes closed. No, I'm not napping like my hubby accuses me. I'm actually writing.
Once I get a general idea of the concept, I'm ready to start writing down my ideas. I have a special notebook that's full of story ideas. It's got dog-eared pages, bookmarks, and post-its all throughout to help me find my way back to my ideas as I'm writing.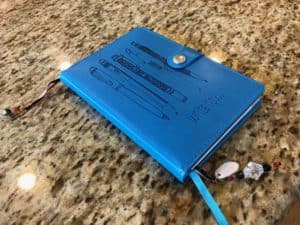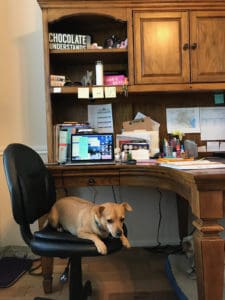 I'm not the most organized person you'll ever meet. One look at my writing desk, and you'll see just how disorganized I can be. This picture was actually taken on a good day. My dear, sweet hubby is a bit of a neat freak, and he tends to "organize" my stuff when I spill over onto his side of the desk. I use Post-Its like my life depends on it. I even use a Post-It style app on my computer called Stickies. So I have them on my desktop and on my desk!
I've actually impressed myself lately with how much more organized I have become. Years ago, when I had an idea for a story, I just started writing it. No plan. No idea where it was going. That worked. But it took a looooong time to finish a first draft.
Now I have a system–a step in between scribbling down my ideas in a notebook and actually writing the story. Nowadays, much like how I rely heavily on Post-Its to organize my thoughts/day/life, I use index cards to organize my story.
I take all the scenes that I've been playing in my mind for the past few weeks and I write each one on an index card. Then I arrange them into the order I think they should go in the story, and voila! I've got a road map for my novel.
And I'm excited to announce that I now have a road map for Book Three in the Spirit Chasers series!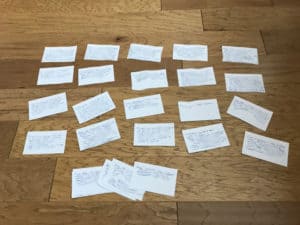 With my kids going back to school in the next couple of weeks, my life will get back to somewhat of a routine. Then I can get started on Book Three to complete the series!
To Stop a Shadow (Book Two) is still scheduled to be released in October, and To Catch a Spirit (Book One) is currently available on Kindle and in paperback.