Happy Friday! Please join me in welcoming today's spotlight author:
Joan Reeves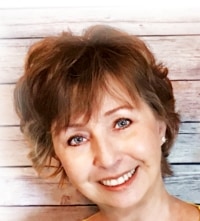 Joan Reeves—Keeping Romance Alive…One Sexy Book at a Time—is a NY Times and USA Today bestselling author of Contemporary Romance. All of her stories have the same premise: "It's never too late to live happily ever after."
Joan lives her happily-ever-after with her hero, her husband. They divide their time between a book-cluttered home in Houston and a quiet house at the foot of the Texas Hill Country where they sit on the porch at night, look up at the star-studded sky, and listen to the coyotes howl.
Sign up for Joan's Mailing List and be the first to know about new books and giveaways.
Visit Joan online at any of these locations:
Website  •  Blog  •  Amazon  •  Bookbub  •  Facebook  •  Twitter  •  YouTube
BRIANNA'S SEASON FOR MIRACLES, Book 2: Small Town Texas Romance
Last Christmas had been the last straw for Brianna. After a very public embarrassment, she vowed never to return to New Estacado. She fled to Las Vegas, a city where she could be anonymous instead of grist for her hometown's gossip mill.
Brianna hated her life. Instead of partying all night and sleeping all day, she faced the fact that if she wanted her life to be different, she had to change. Determined to ditch her so-called friends and the seductive persona she hid behind, she vowed to do whatever was necessary so she could look at herself in the mirror without being disgusted. She knew that changing her actions wouldn't do a darn thing to "fix" her, but she had to start somewhere.
When her father demands she come home for the holidays, she's devastated. For the last year, she's worked on herself. She's afraid she'll revert to old habits to deal with social situations that always terrify her. Back in her hometown, she meets Daniel Kelly. His warmth and kindness—qualities she'd never found in any of the men she'd dated—attract her. To her surprise, she finds his intelligence, courtesy, and niceness enormously appealing. Best of all, he's a stranger in town and doesn't know what the town thinks of her. Even though she tells herself to keep him at a distance, she can't help falling for him.
Before meeting Brianna, Daniel knows the secret she's hiding. To complicate matters, the attraction between them is sizzling. What will happen when Brianna realizes Daniel has a secret too?
Brianna's Season for Miracles is a Christmas Romance that picks up one year after Last Christmas, Book 1 of Small Town Texas Romance in which Brianna was introduced as the most disliked woman in town. This story revisits the small town of New Estacado in the Texas Panhandle.
Redeeming Brianna meant giving her sound reasons for her past behavior--reasons that everyone could understand. After the first story, Last Christmas, I received email saying what a beeotch Brianna was! I had a tough job in making people love her, but a NetGalley review told me I pulled it off. " The newest Joan Reeves book is delightful, heartwarming and enlightening. Bullying is not something new in schools. Reading we get insight into Brianna's struggles from being bullied, humiliated and ridiculed. ...Reading this book we have a peak at how Brianna's strength shines through to overcomes her issues. This with the new found love of a man that loves her for this strength. Another lovely Joan Reeves story, you won't want to stop reading."