A Deal with Death, Book 4 of the Crescent City Wolf Pack Series follows James on his path to find his fated mate and to survive the evil that's stalking them both.
Odette, the heroine, is a Voodoo practitioner, and I did lots of research on the fascinating religion (starting with a Voodoo tour in New Orleans led by an actual Voodoo practitioner, which I highly recommend you take the next time you're in the Big Easy).
I had so much fun learning about the rituals and traditions and adding them to the magic of the Crescent City Wolf Pack world. I can't wait for you to read it! Release Day is June 17th!
Here is the cover: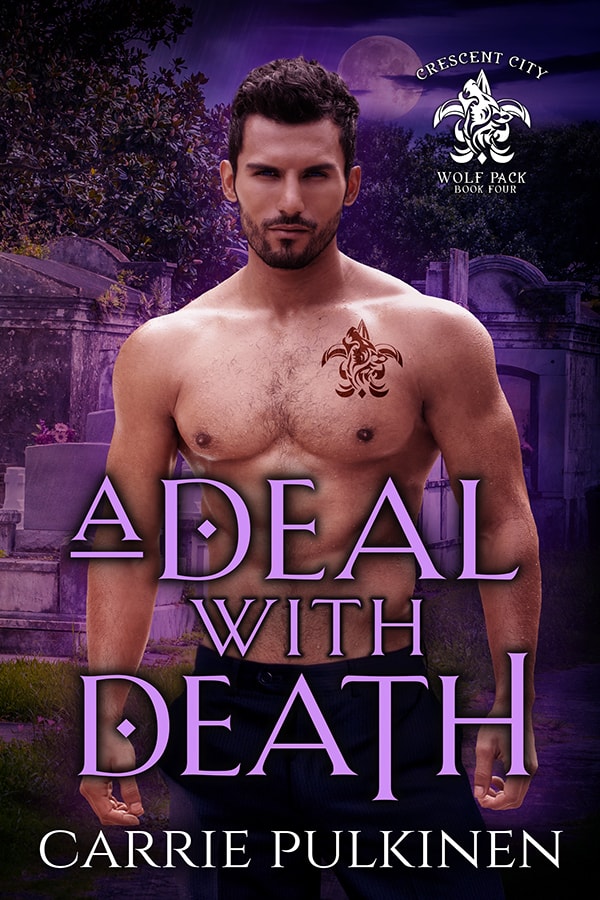 Here's what it's about:
She pissed off the Voodoo Spirit of Death.
Now she has to make amends…
Death doesn't scare Voodoo practitioner Odette Allemand, but dying sure as hell does. Every time she meets her soulmate, her life ends in a horrific murder.
Then she's reincarnated to have it happen all over again.
Odette is determined to survive this lifetime, but when a sexy werewolf knocks on her door, unearthing emotions she thought she'd buried, her fate is sealed with his enticing kiss.
James Malveaux hasn't seen Odette since junior high, but the moment they reunite, his wolf wants to claim her as his mate.
That's if the monster they've awakened doesn't kill them first.
Without the help of the Spirit of Death, they can kiss their lives goodbye. Can James help Odette make peace with her inner demons and the Spirit? Or will the couple be doomed to the same gruesome ending as their countless lives before?
If you like strong heroines and spooky spirits, you'll love this fast-paced shifter romance!
While this is book 4 in the series, it's a completely new story that can be read independently of the others. If you'd like to start from the beginning while you're waiting for the release, check out Werewolves Only. It's available now!