This week's spotlight author is:
Angela Christina Archer
Growing up in Nevada, reading was always a pastime that took second place to trail riding and showing horses. When she did find the time in her youth to curl up with a book, she found enjoyment in the Saddle Club Series, the Sweet Valley High series, and the classics of Anne of Green Gables, The Box Car Children, and Little House on the Prairie. Although, writing always piqued her curiosity, it wasn't until September 2009 that she worked up the courage to put her passion to paper and started her debut novel.
When she's not writing, Angela spends her days from dawn to dusk as a stay at home, homeschooling mom. She also works in her garden and takes care of her many farm animals, as well as loves to bake and cook from scratch. She doesn't show horses anymore, but she still loves to trail ride her paint horse, Honky, as well as enjoys teaching her daughters how to ride their horses, Sunny and Cowboy.
Find her online:
Website  •  Long Valley Press  •  Twitter  •  Facebook  •  Amazon  •  Goodreads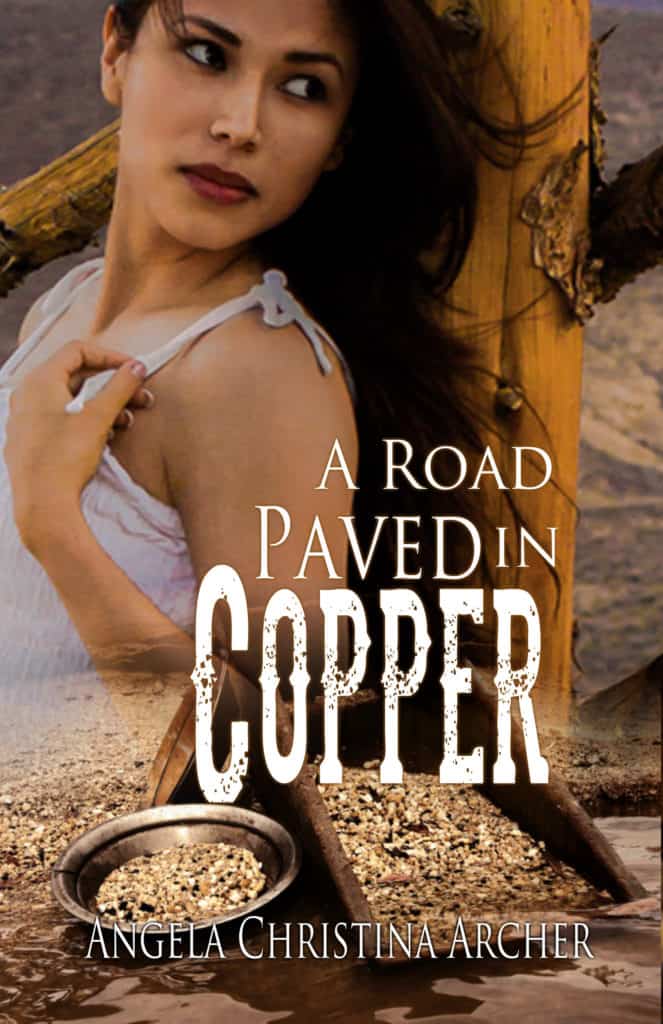 Men. Either they want to kill her or they want to love her.
From the first and grime of her gold mines in Nevada to the fanciest hotel rooms on the on the streets of San Francisco, Ava De La Vega lives exactly how she desires: enjoying herself while she spends her money on fire wines, decadent meals, and the company of attractive young men that she tosses away by morning. She loves only three things—gold, silver, and the ever sought-after copper.
A ex-miner from the snowy Klondike, Craig Harrison isn't looking for work–especially one that could get him killed. However, after Ava offers him a job in her mines, he finds that he just can't say no to her.
When attacks by claim jumpers become a deadly problem rather than just an annoyance, Ava's fight to protect what is hers becomes more than she bargained for, and one that could cost her, not only her land, but the life of the man who she's starting to fall for.
Can they survive? Or will they lose everything, including each other?
Read an Excerpt: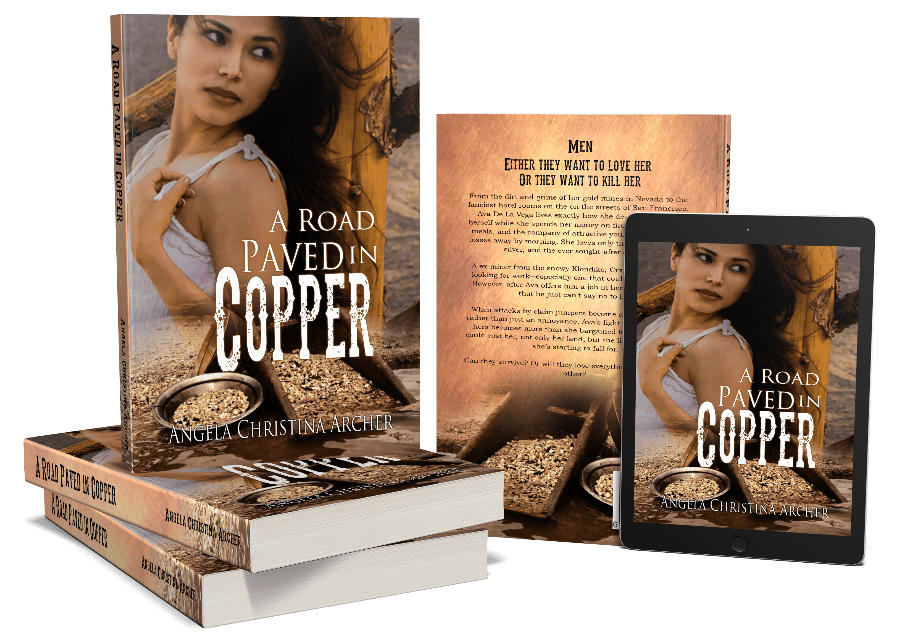 Face after face fluttered past my vision until I finally found the oval one I'd been searching for, a familiar one amongst a sea of strangers.
Sitting in the corner just as John had mentioned, Walter McCoy flipped through the pages of the latest issue of the San Francisco Chronicle. The newspaper glowed with the sunlight, making the parchment appear almost translucent and the black letters jumble together. Dressed in his usual cream-color suit, his sandy blond hair was flecked with silver gray strands that showed his age and matched the salt and pepper color in his handlebar mustache.
My grip tightened on the handbag in my arms so tight my knuckles whitened. Although I desired to cause a scene, doing so would only reflect poorly upon me, not him. Instead, I needed to remain calm and reserved—the picture of sophistication, and yet, still holding the disposition of someone not to underestimate. Reflections of polite behavior I'd learned long ago that would bring me what I wanted faster than raving like a lunatic who would be denigrated to nothing more than a pathetic woman.
"Good afternoon, Mr. McCoy," I said as I approached him. My stride deliberately calculated with each step.
"Why Miss De La Vega, this is quite the surprise seeing you at the Cliff House, of all places." Although Water smiled as he peered around yellow parchment, a darkness that clouded through the blue hue of his irises and seemed to deepen his sonorous voice.
Always the man of statute, he spoke and moved slowly, as though he believed this display of eloquence propelled him to a higher social standing above everyone else. In my youth, I thought it did too, but the older I became and the more knowledgeable about the man Walter was, I just found it annoying.
"Are you really so surprised, Mr. McCoy? I mean, we both frequent the place when we are in town, so it's almost inevitable for us to see one another, isn't it?"
"I suppose that is so . . . or perhaps, it's as simple as some of your little messengers around the city informed you of my whereabouts."
He folded his newspaper, laying it on the table before he fetched his glass of sinfully red wine and took a sip, letting out a satisfied breath.
Anger seethed through my veins.
"At least my spies didn't follow you around at night while you are going to dinner, or wait around in your hotel lobby for you to leave your room."
His lips twitched with my accusations, claims he ignored as he asked. "What brings you to San Francisco, business or pleasure?"
"Actually, business. Rather important business."
His interest piqued, sparkling in the arch of his brow as though he didn't expect my answer. "Oh really? I believe that is a first for you, is it not? Aren't you usually in town to . . . enjoy the pleasuresof the city and the men living in it?"
"And why would I not enjoy myself if I am here to see to my bank accounts or take pleasure in some rest and relaxation? Honestly, Walter, you act as though you are jealous of me."
"Sorry to disappoint you, but jealousy isn't in my nature. It shows weakness, and I am not weak."
I shrugged my shoulders, hinting to the fact that I also shrugged off his words.
"May I sit for a moment?" I grabbed the back of the chair and slid onto the cushion before he answered my question.
"Well, since you left me no choice, I suppose then it would be my pleasure to enjoy the company of a woman, even if it has to be one such as yourself."
I laughed. "Oh, Walter, I always have found it amusing that you believe your words can wound me when they don't."
His shoulders tensed as his lips curved into a scowl. He grabbed the bottle of wine sitting on the table and filled the empty glass sitting in front of me.
"So what is this important business?" he asked.
"A little of this, a little of that." I clutched the glass in my fingers and took a sip, toying with his curiosity in order to torture him, even if it was just for a few seconds. Always privy to the gossip, not knowing information bugged him the most in life.
"And is this business with anyone in particular?"
As I cocked my head to the side, my eyes narrowed. "As a matter of fact, it's you."
"Me?" He ever so slightly jerked his head. A faint smirk lit his expression and he gulped the rest of the wine in his glass. "Are you finally ready to sell me your land and all your claims, then?"
I placed both of my elbows on the table and clasped my hands together. Tension brewed between us, darkening over the table with an invisible thick haze that I wanted to bathe in. I loved making him squirm inside, believing—even if it was just a moment—that he might finally have what he'd always desired most in life: my land.
"For the rock bottom price you keep offering me? Not a chance in hell."
"My offers have always been fair market value. It's not my fault that you have unrealistic expectations when it comes to the net worth of what you own."
"Fair market value is double what you offered me. Don't think for one second that I haven't researched my deeds."
"I've always said the mines are no place for a woman." Walter poured himself another drink, tapping the top of the bottle against the rim to fend off spilling a single drop. "Rough and rugged, mining requires a strength that the fairer sex just doesn't possess. You really should consider one of my offers."
"Ah, yes, the notions that a dainty female shouldn't own, excavate, or protect a claim." I leaned back in my chair and crossed my arms. "And yet, here I am, one of the richest land owners in the Tonopah basin—even more than yourself."
"I suppose you are one of the lucky ones, then."
"Yes, because it's luckthat keeps me in business."
He rolled his eyes as though my words were nothing more than a preposterous notion. "If you are not here to sell me your land, then what can I do for you today, Ava?"
"You can stop ordering Billy Jack and your men to attack my homestead."
Accused of a crime, tautness built through Walter's chest. Words swam in wrinkles of his face, deepening with every slight twitch of his lips or the furrowing of his brow as though he was thinking of different excuses to lie at my feet. Which would he use? Which untruth would speak from his evil lips? Would he create an elaborate story or simply deny it? Given he had done both in the last few years; the chance ran right down the middle.
"I'm afraid that I have no idea what you are talking about," he said.
I lifted my glass and sipped the wine again, clicking my tongue as I set it back down. I knew the back and forth game about to occur between us, a battle of wits, a battle of landowners.
I fought to protect my land.
He fought to steal it.
"Is that the stance you are going to take, then?" I asked. "That you know nothing of the recent attack on my homestead?"
"Well, when one isn't involved then usually they know nothing of the events that transpired."
"Isn't involved?"
"That is what I said, isn't it?" He paused for a moment as if to exaggerate his defense. "Billy Jack and his men haven't worked for me in over two years. I have no more control over that man than you do. What he does is his own business. I know nothing of his actions, nor do I order him to do my bidding anymore."
"I highly doubt that."
"You know, one shouldn't hold onto resentment and anger when it comes to the past."
"I don't hold concern over what happened all those years ago anymore, and I haven't for a long time."
The smirk on his lips told me that a rebuttal sat on his tongue, and yet, he didn't utter a word. Ah yes, another method of denial—silence—as if to say how dare I come at him with this. Did I not know who he was? Did I not know what he was capable of?
I did know, though.
It was he, who didn't know what I was capable of doing.
"Is there anything else I can do for you today, Ava?" he finally asked. Indifference breathed through the tone of every word.
"I beg your pardon?"
"I'm rather busy and, quite frankly, I do not wish to waste any more of my time speaking with you if you are only going to accuse me of actions I know nothing about."
"I know you calculated the attack on my homestead."
He slightly shook his head. "As I told you before, I didn't."
"I know you did."
"But you can't prove it."
I rose to my feet and yanked dozens of red satchels from my handbag, dangling them in my fingers for a few minutes before I tossed them on the table. A few of them fell open and coins rolled from the material, dropping to the floor with a few clangs.
Walter scrutinized the bags, but didn't move an inch. A detail he hadn't seen coming. A detail that pinned him to the crime. Evidence he couldn't refute and that condemned him as though he was there that day.
"I'm sorry to inform you that you lost all of your men in the attack," I continued. "I know you ordered the attack on my homestead."
I stepped forward until I stood next to him. I leaned down, my face inches from his, and my hot breath whispered against his skin.
"And if you plan another one, I promise that I'll gun you down myself."